oneColumn
Residence Inn
4905 San Pablo Road South
Jacksonville, Florida 32224
Phone: (904) 992-2040
Rates
5+ nights - $159 per night plus 13.5% tax (Studio King Suite or 1-Bedroom Queen Queen Suite)
Based on availability.
Reservations
Use the IPTM booking link above (Visit Website). Contact Danita Hurst, Sales Manager, at (904) 821-7204 or email, with any questions.
Hotel Amenities
All rooms are suites and are equipped with a full kitchen, 55" smart TV, and safe
Complimentary hot breakfast buffet (based on CDC guidelines)
Lobby Bar Lounge with evening food service and full bar menu
Complimentary Wi-Fi 
Fitness center
Business center
Extended stay
Pool
On-site restaurant
On-site laundry
Within Walking Distance
On-site restaurant
Lobby bar and lounge featuring evening food service and full bar menu
Shuttle Service
This property does not provide shuttle service.
Parking
Complimentary on-site parking
Distance to IPTM
This property is located 5 miles from IPTM.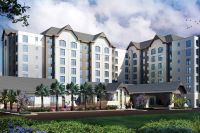 Map and Directions
Residence Inn is located at 4905 San Pablo Road South in Jacksonville, Florida.