Drug Recognition Expert (DRE) Program
oneColumn
What is a DRE?
A Drug Recognition Expert (DRE) is an officer who has received specialized training and has been credentialed by the International Association of Chiefs of Police to evaluate suspects and determine:
If the subject is impaired.
If a medical condition is causing the impairment, or
If a drug is causing impairment, which drug category(s).
There are more than 8,000 officers in the United States certified...approximately 1.1% of all law enforcement officers.
Academic Training
This phase is typically conducted over nine days (72 hours). It includes courses in physiology, vital signs, standardized field sobriety testing (SFST), as well as extensive material on each of the seven categories of the drugs of abuse. The training includes two written examinations, an SFST proficiency examination and five written quizzes. Students must achieve a minimum of 80% on the two examinations and demonstrate proficiency in administering the SFST in order to progress to the certification phase. The academic training is conducted utilizing creative, participant-centered teaching techniques.
DRE school is a demanding course and is by application only. Once an officer becomes a DRE, recertification is required every two years. After the first recertification, a DRE can apply to become an instructor. Complete information for each course can be found by clicking the appropriate links below:
Certification Phase
Students are required to complete the certification requirements within three months following the DRE school. These requirements include: conducting a minimum of 12 drug influence evaluations while under the supervision of a DRE instructor; passing a comprehensive final knowledge examination, and obtaining the written endorsement of two certified DRE instructors that supervised their training evaluations. Field certification training in Jacksonville is typically offered on the Friday and Saturday following the academic training to help obtain the required drug influence evaluations.
How does a Florida law enforcement officer become a DRE?
The officer must request an application from the State Coordinator, Tim Cornelius.
The officer must have completed the 24-hour NHTSA DWI Detection and Standardized Field Sobriety Training (SFST) course and demonstrate proficiency in all tasks.
The officer should have experience in detecting and arresting DUI's to include testimony in court.
The officer must have completed the 16-hour NHTSA Advanced Roadside Impaired Driving Enforcement (ARIDE) course.
The officer will be required to obtain a written endorsement from an Assistant State Attorney in the officer's circuit.
The officer must also be recommended by his/her Chief or Sheriff and the recommendation of another DRE is highly recommended.
Applicants can also receive information from one of the Regional DRE Coordinators.
This course is by application only. No registrations are accepted. Lodging at the preselected hotel and travel expenses are covered for students traveling 50+ miles to the training site.
July 10-20, 2023, Orlando
Field Certs: July 21-22, Jacksonville
Sept. 14, Jacksonville
Online, Start Anytime
July 31-August 4, Jacksonville
New online, grant-funded course. Start anytime!
Utilizing Drug Recognition Experts (DREs)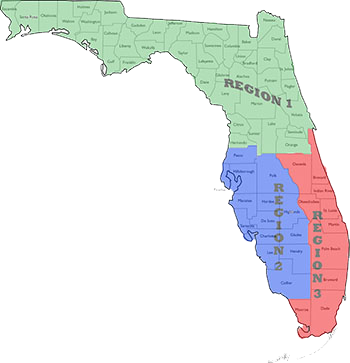 For questions about regions, contact State DRE Coordinator, Tim Cornelius, at (904) 620-4786.
The DRE Program is funded for Florida officers by the Florida Department of Transportation.