oneColumn
Tarpon Springs Police Department
444 Huey Avenue
Tarpon Springs
,
Florida
34689
Location Information
Building Information
Students not affiliated with the Tarpon Springs Police Department will need to check in at the front desk with the records clerk.
Dress Code
Business Casual or Uniform
Weapons Policy
Sworn law enforcement personnel may carry their weapons on site with their badges displayed.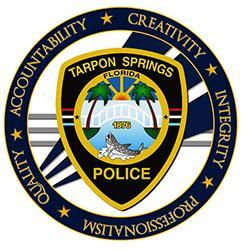 Training Location Map
Tarpon Springs Police Department is located at 444 Huey Avenue in Tarpon Springs, Florida .